Nepalifilm's actor and actress
Also pop stars
Read the interviews of your favorite film star plus pop star. They all are rising star of Nepal.





After having stolen hearts by her candid performance in Ajnabee
, Bipasha Basu
, has agreed to do a film down South, apart from of course, having green signaled five Hindi films. The Telugu film has her paired with teen sensation Mahesh, son of southern superstar Krishna. To shoot the cowboy meets cowgirl tale, they air dashed to
Texas
for a weeklong schedule so as to give the film an authentic look. Obviously by the kind of response Bipasha has got for her debut performance, she hopes filmmakers will now approach her with challenging roles only. "But once in a while I also want to do roles that require me to do nothing but run around trees. It's fun playing a bimbette sometimes," she laughed.
Famke Janssen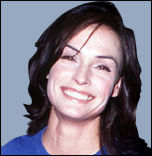 Before she took up modeling and acting, Famke Janssen was majoring in economics at the University of Amsterdam. Famke, which means "little girl" in the Frisian dialect of northern Holland, lived in the Netherlands capital with her family until 1984. At that point, she ... ╗FULL BIO
James Dean's Autobiography
,
James Dean Biography
Chronology of James Dean's Life,
Photos by Roy Schatt
,
Photos by Frank Worth
New Mp3 Songs
Listen to your favorite Nepali, English and Hindi Songs and mp3 music!

Hot Screensavers
Get screensavers of your favorite actors, actresses, nature, space and more...
Wallpapers
Get gorgeous wallpapers of Actor, actress,nature, spaceand more stars...
Movie Reviews
Read movie reviews before you watch films to avoid occassional disappointments!
Actors / Actresses
Read about your favorite film stars. Learn their likes, dislike, watch huge picture gallery...